Temperatures are dropping, fireplaces are crackling, and cooks are serving comfort food. As Thanksgiving approaches, Elara Brands is celebrating this season by thanking customers like you. After all, through our One Case • One Meal program, our customers help provide a meal to a person in need whenever they purchase a case of our products.
However, this is not only a season of thankfulness – it's also a time to give back. As a result, we are also calling on others to join us in fighting hunger this year. After all, many of our neighbors need help putting food on the table right now because of the COVID-19 pandemic – and simple acts of kindness can make a meaningful difference.
Read on to learn how hunger is affecting our nation during the holidays, and how you can help nourish more households facing hunger.
Brittany's Story
The COVID-19 crisis has caused millions of people to seek out help to feed their families. Without food banks, people like Brittany – along with her husband and two kids – simply wouldn't have a holiday meal at all.
This past year, as the holidays began to roll around, Brittany wasn't sure her family would be able to celebrate in the traditional way. Even though both she and her husband work – he has his college degree and works for a local bank, and she manages a movie theater – they still struggle to make ends meet.
"Holiday meals are expensive," Brittany said, "and they're not in our budget. I knew we would eat on those days, but I was planning on serving grilled cheese sandwiches or spaghetti. I've never been able to buy a turkey."
So, when Brittany discovered the mobile pantry near her home was distributing complete Thanksgiving meals, she was overjoyed.
"We also got cranberries, potatoes, pumpkin pie…the entire meal. My son was so excited and kept saying, 'I love turkey!' There was something so magical about being able to sit at the dinner table with my family and enjoy that holiday meal."
"As a mom, it makes me feel bad when I can't provide my sons with things other families seem to take for granted – like holiday meals," Brittany said. "It's heartbreaking. But because of the mobile pantry, I could provide that for them this year. I'm grateful, it's been such a huge blessing."
Elara customers like you make it possible for families like Brittany's to have Thanksgiving meals. Your partnership ensures that households get the nutrients they need and make memories together at the table.
Neighbors Helping Neighbors
Want to help your neighbors? Elara customers are already making an important difference — but more can be done to fight hunger. And because of the COVID-19 pandemic, it's never been more important to give back.
The season is supposed to be a time of togetherness and joy, but this year, the holidays could look different for more than 50 million people facing hunger. The good news is that simple acts of compassion can go a long way, such as helping your local food bank provide meals to struggling households.
For example, Elara Brands CEO Dan Grinberg supports his local food bank as a way to give back. He joins in Island Harvest's annual turkey drive, donating frozen turkeys and non-perishable food to provide holiday meals to Long Island families in need.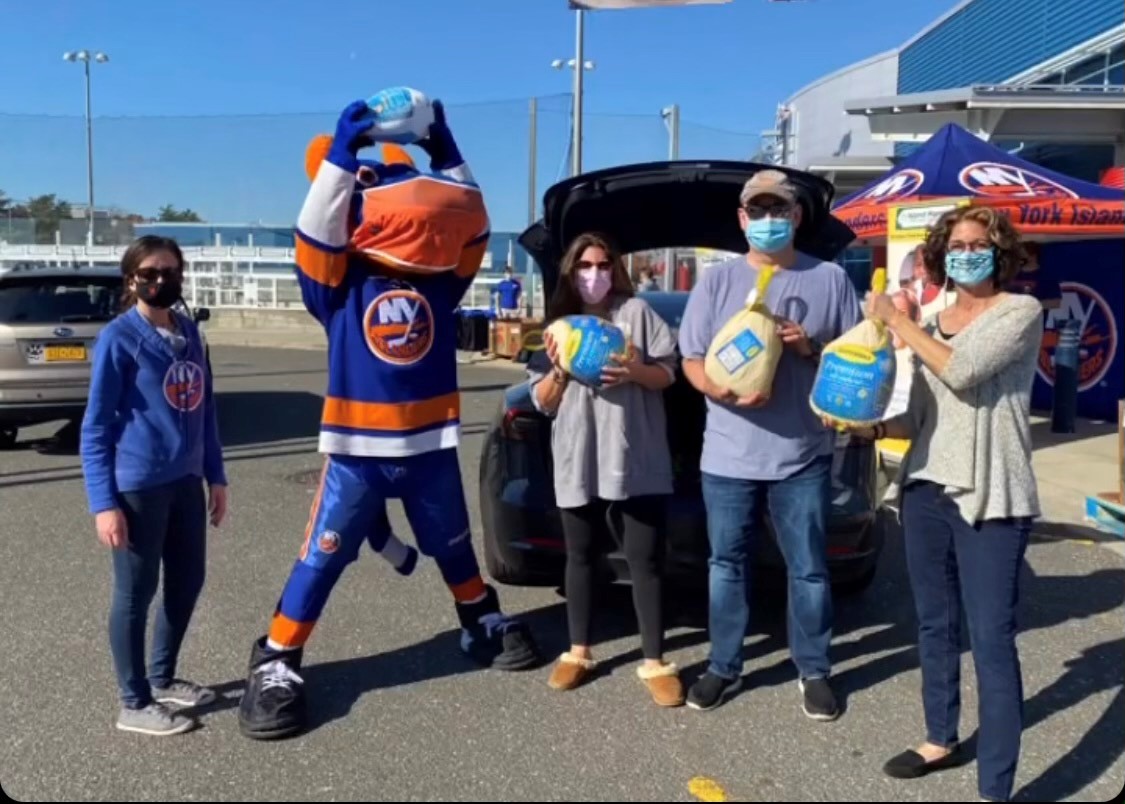 Elara Brands CEO Dan Grinberg joined in Island Harvest's annual turkey drive to ensure his neighbors can enjoy a warm meal on Thanksgiving.
Dan also shares his time and skills with his local food bank as he serves on Island Harvest's board of directors. He enjoys using his professional background to help the food bank improve and expand their outreach. In 2021, he will take on the role of board chair so he can do more to help.
Right now, many food banks nationwide are hosting holiday food drives and looking for volunteers. They have implemented safety measures so they can protect people's health as they distribute meals. But they need help to respond to the growing need for food caused by the pandemic.
Find your local food bank to learn how you can offer help where it's most needed. Whether you donate food, share your time, or provide a financial gift, families across the nation can have a more joyous holiday season thanks to your generosity.
Let's Make the Holidays Brighter
The holidays will always be a special season. However, this year is undeniably different. The things that are most important to us have felt exposed and vulnerable during the pandemic, including our health and our families. And some of us have suffered losses.
Yet through community and togetherness, we can keep moving forward. And we can find ways to celebrate the holidays with joy and gratitude despite the challenges we face.
With Thanksgiving around the corner, all of us at Elara Brands are considering how we can do more to help our struggling neighbors this year. And we invite you to do the same. After all, when we bring happiness to others, it makes it much easier for us to smile.
Want to learn more about how we help people facing hunger? Read about our commitment to fighting hunger.
Interested in purchasing our hunger-fighting products? Check out our gloves, bags, and more.