Since COVID-19 was declared a global pandemic in March 2020, it has affected nearly every aspect of our lives. It has changed how we work, how we play and how we run our companies.
Businesses and institutions need personal protective equipment (PPE) – including disposable gloves – to protect their customers, employees and patients as they contend with many new realities.
However, the COVID-19 crisis has profoundly impacted the disposable glove market. Surging demand is straining manufacturing capacity, leading to severe product shortages and sticker shock as customers watch prices increase.
At Elara Brands, we are working tirelessly to provide customers with the products they need. Constant changes in market conditions have created challenges, but our dedication to our customers and our hunger-fighting mission keeps us going.
In this environment, we recommend that you plan ahead so you can get the products you need to keep your business running. Read on to learn where the disposable glove market stands entering the New Year and how you can navigate these challenging times.
2021 Glove Market Outlook
According the U.S. Food and Drug Administration (FDA), glove shortages are expected to continue as long as COVID-19 is a public health emergency. Customers looking to purchase PPE should anticipate limited supplies, product shortages and elevated prices well into 2021.
Surging COVID-19 cases means more glove use in hospitals and medical clinics – especially now with the emergence of a new and more contagious virus strain. Demand is also high in non-medical industries due to a greater focus on cleaning, sanitation, worker safety and food safety.
Supply shortages are a problem not only in the U.S. but also around the world. For example, frontline workers in Japan are experiencing glove shortages as COVID-19 cases rise.
Making matters worse, a Malaysia-based company that's one of the world's largest glove makers recently had to shut down around 30 production facilities after 5,000 workers tested positive for COVID-19.
For good reason, there is a sense of optimism around the development of COVID-19 vaccines. However, giving two doses per person will take time, and gloves will be widely needed to administer vaccinations. Large pharmacy chains such as CVS and Walgreens already require their workers to wear gloves when giving shots.
Even after COVID-19, glove demand will remain higher than pre-pandemic levels due to heightened concerns about sanitation, health and hygiene. As the economy recovers, usage will increase outside of healthcare as businesses, restaurants, hotels, entertainment venues, sporting events and office buildings reopen.
Outlook and Buying Alternatives by Glove Type
Tight supplies and elevated prices will be commonplace for the foreseeable future. Prepare for the inevitable by planning to allocate more of your budget toward gloves. You can also consider switching to lower-cost options wherever possible.
Here is a breakdown of market conditions by glove type and product alternatives you can consider to navigate shortages and high prices. Of course, it is important to do your own research. Sample alternative gloves before buying in bulk to ensure you select ones that are appropriate for the intended application.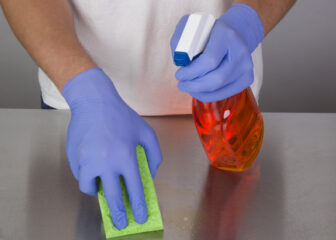 Nitrile Gloves
 Outlook: Tight supplies, shortages and price increases expected in 2021
Alternative(s): Latex gloves, synthetic hybrid gloves, vinyl gloves
 Nitrile gloves, made from a synthetic rubber, are in the most challenging supply situation. Shortages are rampant and prices are skyrocketing.
News outlets reported that the U.S. was facing nitrile glove shortages heading into the vaccination campaign. In Washington state, supply shortfalls were expected to slow down vaccination delivery.
How did the nitrile situation become so acute? Before the pandemic, nitrile was the fastest growing disposable glove category because it provides superior strength, barrier integrity, and chemical resistance.
Nitrile also picked up market share from natural latex gloves, which contain proteins that can cause allergic reactions.
Because of its growing popularity, nitrile quickly became the glove the world wanted when the coronavirus spread. Manufacturers and raw material suppliers have been swamped by the dramatic increase in demand ever since.
Building new disposable glove production lines and factories takes time – from one to three years – and most additional nitrile capacity is already sold out through 2021.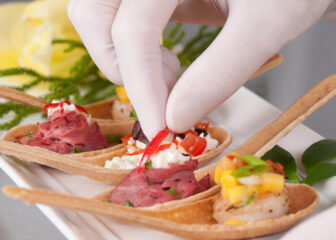 Latex Gloves
 Outlook: Better availability than nitrile but tight supplies and upward price pressure expected in 2021
Alternative(s): Synthetic hybrid gloves, vinyl gloves
 Latex gloves are lower cost than nitrile gloves, yet their prices are increasing. Availability is also tight, though not to the same extent as nitrile. Some factories that previously switched production from natural latex to nitrile are moving back to latex due to better raw material availability.
Natural rubber latex gloves share many similarities with nitrile – durability, puncture resistance, touch sensitivity, and a hand-hugging fit. Like nitrile, latex gloves provide excellent heat resistance around grills and stoves.
One of the primary issues with latex gloves is allergic reactions in sensitized individuals who wear them. For this reason, many healthcare facilities use alternatives to latex and some locales do not allow latex use in foodservice.
Even so, latex can be a solid nitrile alternative for many users. Modern manufacturing techniques have significantly reduced the proteins in latex gloves that can trigger allergies, making them safe for many uses.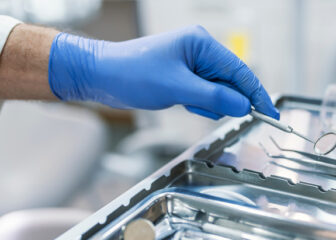 Synthetic hybrid gloves
 Outlook: Increasing availability. Specification will vary by brand. Seek medical grade gloves if you are concerned about quality.
Alternative(s): Vinyl gloves
 A new type of glove is helping fill the supply gap left by nitrile shortages – vinyl-nitrile hybrid gloves. Sometimes known as vitrile, they are a synthetic hybrid glove made from a stretch-PVC formulation infused with a small amount of nitrile.  While not as tear and chemical resistant as nitrile, they are more readily available and are at a lower price point.
Elara's Versafit gloves, with their blue color and durable construction, are an effective nitrile alternative. Free of natural proteins, Versafit can stand in for natural rubber latex gloves as well.
Vinyl-nitrile glove quality can vary by brand because it's a new category. However, our Versafit gloves are an excellent option. They are exam grade and comply with FDA 510(k) regulations for medical use.
In general, Versafit gloves are alleviating supply issues with healthcare customers and offering a solid alternative for foodservice, janitorial and other general purpose uses.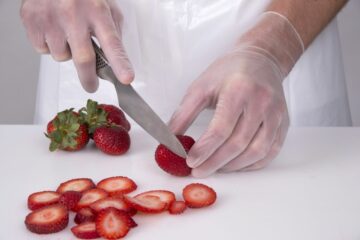 Vinyl Gloves
 Outlook: More widely available and lower cost than nitrile, though prices are high compared to pre-pandemic levels
Alternative(s): Hybrid gloves (polyethylene)
 Standard, clear vinyl gloves are becoming more readily available. If you're a nitrile user struggling with supply, vinyl is an option worth considering, depending your application.
Vinyl costs significantly less than nitrile and is typically lower in price than latex and synthetic hybrid gloves too. While less tear and chemical resistant, the savings vinyl affords may be worth the tradeoff.
Though lower cost than nitrile, vinyl prices still remain at high levels compared to where they were before the pandemic with no immediate relief in sight.
The impact of these high prices is being felt most in the foodservice market, where vinyl gloves are widely used. This is straining budgets at a time when restaurants are already suffering.
So while vinyl gloves can be a money-saver for nitrile users, vinyl customers are stuck paying much higher prices right now. The good news is that hybrid gloves, explained below, are an alternative glove that can bring your glove expenditures back down.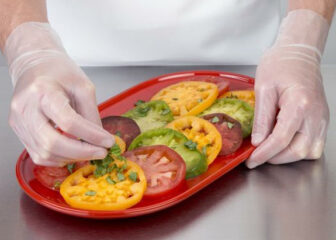 Hybrid Gloves
 Outlook: More availability in 2021, with significant savings versus vinyl gloves – yet quality differs by brand
Alternative(s): Poly gloves
 Many foodservice operators looking to slash vinyl costs are moving to polyethylene hybrid gloves. The savings can be significant, and as a result, hybrid gloves are in high demand.
Elara's Digifit hybrid gloves fit like a vinyl glove and have a textured gripping surface for better handling. Their melt point is comparable to vinyl, though wearers will feel more heat around the grill versus thicker vinyl gloves. Digifit is also 100% recyclable.
Buyer alert! There are no established industry standards for plastic hybrid gloves. Quality and performance varies from brand to brand. Watch out for baggy, poor fitting gloves – they are cumbersome and slow workers down. Gloves with slippery surfaces make gripping kitchen tools and knives problematic.
If hybrid gloves seem like an option you want to explore, be sure to sample different brands – not all hybrid gloves are the same.
 Poly Gloves
 Outlook: Steady availability
Alternatives: None, as poly gloves are the lowest cost gloves available
 Traditional poly gloves are your most economical option. The tradeoff is that poly gloves are looser fitting, thin, and less durable than other types of gloves. They are not recommended for use around heat and chemicals.
Poly gloves make the most sense for tasks requiring a quick change – e.g. making a sandwich – where using expensive nitrile, vinyl or latex gloves is cost-prohibitive.
Another possibility are dispensing options that allow for faster donning, such as EasyOn blue gloves and Mitzeez quick-donning mitts.
The Bottom Line:
While high glove prices and supply shortages remain a challenge in 2021, a variety of options are available.
 Elara Brands remains focused on securing capacity, providing alternatives and producing new gloves. We're dedicated to providing our customers with the products they need to weather the pandemic and beyond.
As you consider your glove options, watch out for the many fraudulent products scammers are promoting in this challenging environment. This unfortunate problem was covered on our blog and in a The Wall Street Journal article featuring Elara Brands CEO Dan Grinberg.
Thank You
During this difficult period, all of us at Elara Brands would like to express our gratitude to our customers. We appreciate your business and support for our hunger-fighting social mission—especially as millions of Americans face economic challenges caused by the pandemic.
For all you do to protect people and feed families during the pandemic, thank you.
If you would like more information about our products or social mission, please contact your Elara distributor or drop us a line.