Elara's Meal Giving Partner Feeding America claims #1 spot on Forbes' 2022 list of 'America's Top Charities'
Through Elara's One Case • One Meal program, for each case of an Elara product you purchase, we donate a meal to a person struggling with hunger through our meal giving partner – Feeding America – and its network of 200 member food banks across the U.S.
The nation's heightened hunger crisis amid the COVID-19 pandemic impacted communities across the country. Met with unprecedented demand, every food bank in the Feeding America network rallied and responded—fueled by hundreds of thousands of compassionate donors who are committed to achieving food security for all people in our country.
Backed by the exemplary care and generosity received from individual donors, corporations and foundations, coupled with the breadth and efficiency of the food bank network, Feeding America is the No. 1 charity in the United States, according to Forbes' newly released annual list of America's Top 100 Charities.
Forbes also reported that Feeding America has a 99 percent efficiency rating.
It's the first time in the 24 years Forbes has been compiling this list that a food charity tops the ranking, which is ranked by private donations raised, including food and funds. Feeding America had been ranked the No. 2 charity for the past four years by Forbes, behind United Way Worldwide.
In the fiscal year ending June 30, 2021, Feeding America—the nation's largest domestic hunger and food recovery organization—received $4.06 billion in gifts, amounting to a 47 percent increase over the past two years. Research for the Forbes list was based on financial data from 2021.
In addition, a record 11 independent food banks (10 being members of the Feeding America network) also made the Top 100 Charities list this year.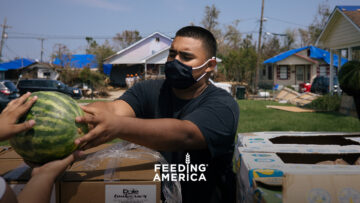 Feeding America has a bold aspiration for a better tomorrow for our nation. It will take all of us working together—Thank you for your continued support and for joining Elara Brands in the fight against hunger in America.