We did it- Elara's Drive for 5 campaign was a success! We exceeded our goal of donating our five millionth meal for people struggling with hunger in America. And we could not have done it without our valued customers.
Through Elara's One Case · One Meal program, for every case a customer buys, Elara donates a meal to a local food bank through our partnership with Feeding America, the nation's largest hunger relief organization.
These are trying times for so many people in our country, as high gas prices, food costs, and overall inflation make putting food on the table that much harder.
For a senior or a veteran living on a fixed income, the choice may be between a meal and medicine. For families just getting by, filling up the gas tank to get to work, may suddenly leave parents scrambling for a way to feed their children.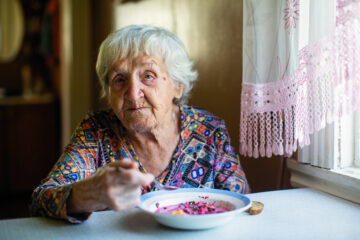 All of this on the heels of the unprecedented level of food insecurity caused by the Covid-19 pandemic. In 2021, 53 million Americans turned to food banks and local community food programs to help put food on their table- an increase from 38 million in 2020.
Fortunately, Feeding America, their network of over 200 food banks, and 60,000 local food pantries around the country are stepping in to fill the gap. The images of long lines of people and cars at food distributions left an indelible mark on all of us.
The issue of hunger in America is ongoing, and so is Elara's work to help our neighbors in need. Fighting hunger is embedded in Elara's business model, which means that when you purchase Elara's gloves, bags, apparel and accessories, you are helping to fight hunger too.
Our next target: to surpass the 6 million meal milestone. Together we are making a difference.
$1 helps provide at least 10 meals secured by Feeding America on behalf of local member food banks.