Burgers and hotdogs, ice cream cones with all the toppings, s'mores around an evening campfire- school's out, summer is here, and it is delicious! What could be bad?!
Unfortunately, for way too many kids, summer is not so carefree when it comes to food and nutrition.
In the United States, nearly 23 million students rely on free or reduced breakfast and/or lunch every single day in school, where the bulk of their nutritional needs are met.
Summer vacation means up to 90 days without school meals, and a lot of worrying for them and their parents about where their next meal will come from.
So, what happens to these children during the summer months?
Summer Foodservice Programs
Fortunately, summer foodservice programs are available to bridge the meal gap between school years. These programs are available around the country and provide meals, and so much joy, during what could be a troubling time. What's more, there are opportunities for you, your family, and your company to volunteer and help out!
History
In 1968, the USDA began the Summer Foodservice Program (FSFP) with the goal of alleviating the nutritional gap, and making meals accessible to students 18 and under during the summer months.
The program provides free meals to children in low-income areas through eligible organizations. Typical summer feeding sites include: schools, camps, parks, playgrounds, housing projects, community centers, churches, and other public sites where children gather in the summer. Kids and teens can just show up at different locations during the scheduled meal hours and receive a free meal.
In its first summer, 99,000 children participated in the Summer Foodservice Program. In the summer months of 2021, nearly 6,000,000 children participated.
Feeding America
Feeding America – Elara's One Case One Meal giving partner – is one of the largest organizations which sponsors Summer Foodservice Programs. In June, July, and August, Feeding America food banks across the country partner with local sites to help reach the millions of children who are in need of a nutritious meal when school is out.
In the summer of 2022, Feeding America provided 24 million meals through their backpack program, school pantry program, and summer feeding sites. This summer, an estimated 32 million meals are needed to help children and their families facing hunger.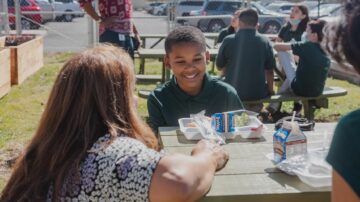 Impact of childhood hunger
Children who don't have consistent access to nutritious meals can face many disadvantages- especially in their early years. They are more likely to be hospitalized for asthma and anemia, repeat a grade in school, experience developmental delays, and are at higher risk of social and behavioral problems.
Summer feeding programs play a vital role in a child's summer. Not only do they ensure nutritious meals, but they also offer a safe and welcoming place for kids and teens to engage with their peers and their community.
What you can do to make a difference in a child's life
At Elara, we recognize that we all can play a significant role in helping the children in our own communities. Whether we grab a bat and ball and head for the local community center, or we share some cookies and conversation at a summer foodservice site, or volunteer at a local food bank- there is nothing too big or too small that can't affect the health of the children around us.
To learn more about summer feeding programs in your area, and how you can help, visit www.feedingamerica.org.
And remember, for each case of an Elara product you purchase, we donate a meal to Feeding America for people who are struggling with hunger, including children!
Laurie Grinberg is the Director of Corporate Social Responsibility at Elara Brands, leading the company's mission to fight hunger through its One Case • One Meal program and partnership with Feeding America, the nation's largest hunger relief organization. Laurie is a long-time advocate and volunteer, having also operated a local food pantry, where she cherished her relationships with clients. Laurie's journey began as a school teacher in New York City, where she witnessed first-hand the impact of food insecurity on children, inspiring her commitment and passion for making a difference in people's lives.