If you're a working professional with experience under your belt, you know what it takes to be successful in business. But do you know what it's like to lead a nonprofit on the frontlines of a problem like hunger?
Elara Brands connects the resources of the business world with the needs of people facing hunger. We provide meals to struggling families through our One Case • One Meal program, collaborating with the Feeding America nationwide network of food banks to provide nourishment and hope across our nation.
We recently interviewed Randi Shubin Dresner, President and CEO of Island Harvest Food Bank, a member of the Feeding America network that has led the hunger-relief movement on Long Island since 1992. While Island Harvest's mission has always been deeply meaningful, it is especially important now, as the COVID-19 pandemic has left many families struggling to put food on the table.
Read on to learn more about how Randi and her incredible team at Island Harvest are working to alleviate hunger in America, one person and one meal at a time.
Q: What are some of the most impactful ways that Island Harvest alleviates hunger in its community?
A: Providing food to people who need it is an important part of our work. By sharing meals with our community, we give local children and families the nourishment they need to pursue a better future. Yet this is a short-term solution to hunger.
To make progress toward ending hunger, we work to create programs and partnerships that directly address its root causes. Every day, we move closer to the day when no one struggles with hunger through education, job training, health care collaboratives, and school and community-based initiatives. Our goal is to transition people from uncertainty to stability.
Q: How has the local need for food assistance changed since the COVID-19 pandemic began?
A: The pandemic has placed an unprecedented strain on food banks across the country. Island Harvest Food Bank has seen a surge in people accessing the region's emergency feeding programs.We estimate that about half of the people we are helping have never sought food assistance before — and many of them had been Island Harvest donors before the pandemic.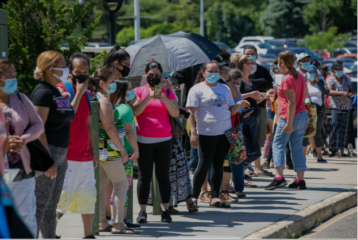 Q: How has the food bank responded to this crisis, and how long do you anticipate seeing elevated levels of need?
A: Island Harvest Food Bank activated its emergency response protocol at the beginning of March to address the impact that the economic shutdown would ultimately have on the region.
Previously we relied on donated food to serve our population. Now we must use a purchase-based model because most of our donated food sources have disappeared.
We have been in communities across Long Island nearly every day, bringing food to people who need it, and we expect the increased need for meals to continue through at least 2021.
Q: It must be difficult to keep moving forward with so many needs around you, yet you've led Island Harvest Food Bank's efforts to fight hunger for nearly 20 years. What motivates you to come to work every day?
A: The personal stories and gratitude we hear every day from the people we assist are among my prime motivators. I am also blessed to work with an incredibly dedicated staff and corps of volunteers, both of which are highly passionate and dedicated to the work we do.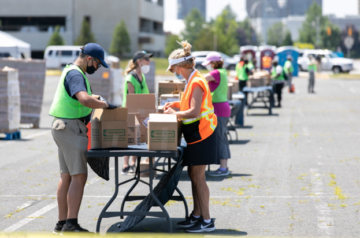 Q: Can you share with us a story of a person in your community that has received food and hope thanks to Island Harvest?
A: Recently one of our outreach staff was working with a chef who lost his leg after a terrible accident. We learned that his insurance would not pay for the surgery or the prosthetic leg. Without that, he thought he would never be able to return to work.
As the primary wage earner at home, he soon began having problems buying food for his family. When our team met his family, we provided guidance and support with their SNAP (food stamp) enrollment, helped them secure other services, and connected them with a consistent source of meals.
As the family awaited their SNAP benefits, remarkably, our team secured a donated prosthetic leg – which enabled the chef to get back to work! After a while, he regained his confidence, the family regained their financial stability, and they began to plan for their future again.
It's not just about food. That's one crucial component, but when a family is struggling and in need, there are often several issues to be addressed. I am privileged to work with a dedicated and caring team of people here at Island Harvest Food Bank who give people the hope to reach for a better day.
Q: How have you partnered with Elara Brands' founder, Dan Grinberg, to address the problem of hunger?
A: Dan Grinberg is not only passionate about the issue of hunger in our communities, but he and his entire family are also ardent and generous supporters of Island Harvest Food Bank. A longtime board member and astute business leader, Dan lends an unparalleled degree of expertise to our organization.
Additionally, Elara Brands' innovative One Case • One Meal program helps provide a meal to a person facing hunger in America for every case sold. This impact is made possible through Elara Brands' partnership with the Feeding America nationwide network of food banks, of which Island Harvest is a member.
Q: What can people and companies do today to help organizations like Island Harvest fight hunger?
A: Our biggest challenge is fundraising and "food raising." Individuals and companies can visit www.islandharvest.org to learn how they can donate funds or food to help us continue to make sure that no one on Long Island goes hungry.
The COVID-19 pandemic has left many households struggling to make ends meet. Thankfully, leaders like Randi Shubin Dresner and her colleagues at Island Harvest are unshakeable in their commitment to helping. They are dedicated to feeding people today and connecting them with the resources to overcome hunger tomorrow.
Every day, leaders like Randi—and like you—can use their influence to build a better world. That's why Elara Brands was founded. We offer high quality products for handling, serving and storing food while also helping provide struggling families with food. We just need more partners like you to join us in creating a society that's better for everyone.
Interested in using your business for good? Contact us and an Elara representative will reach out to you shortly.